Kinematics Debuts The Industry's First Complete Controller and Actuator For Solar Structure Providers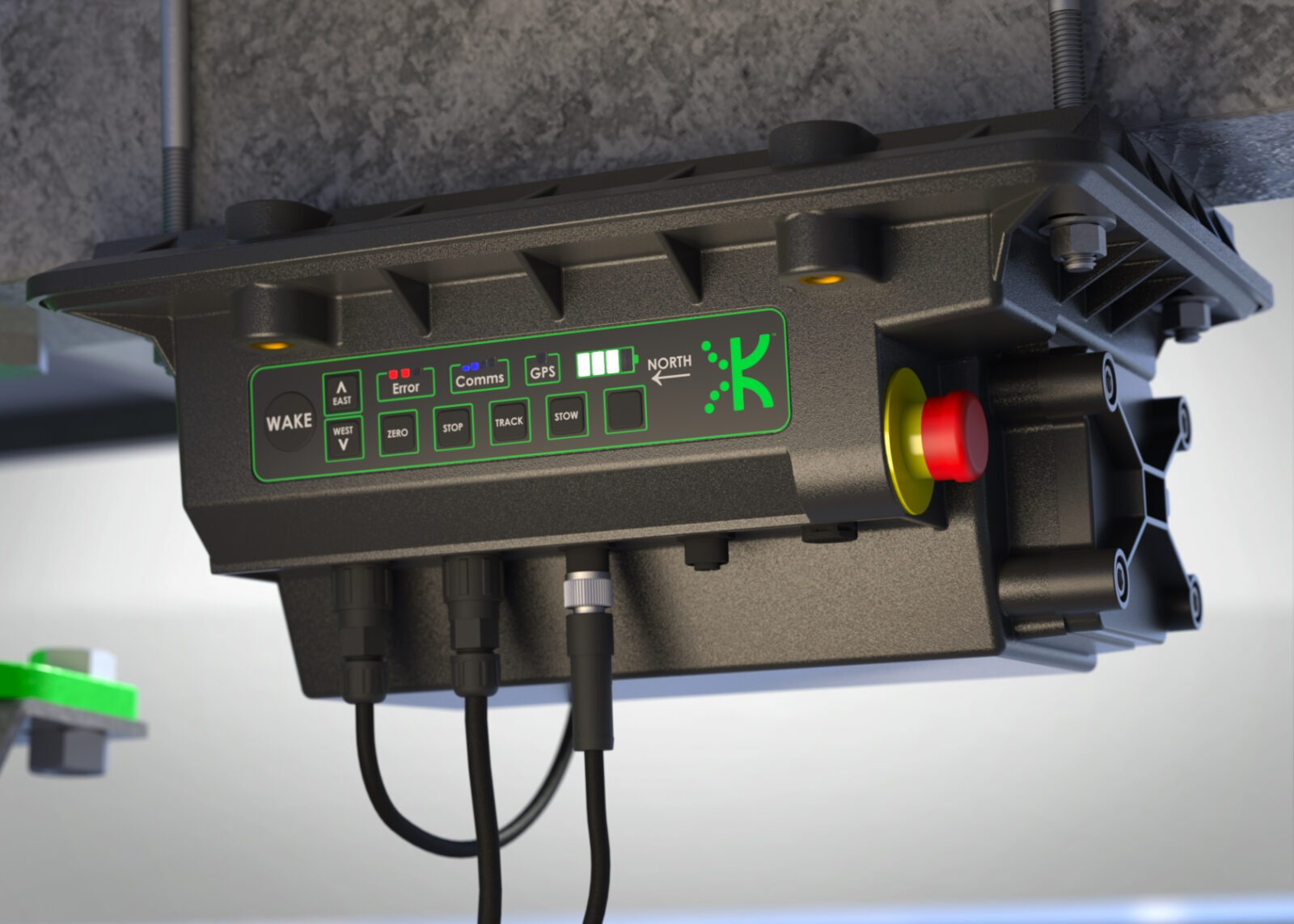 For the first time, solar structure providers can deliver a reliable, complete bankable tracker without the need for actuation expertise.
Kinematics RE+ 2023 Booth #538
Phoenix, AZ., September 6, 2023 – Kinematics, a world leader in intelligent motion control, announced Kinematics ONE™, the world's first all-in-one controller and actuator solution that allows solar structure OEMs to add tracking capabilities to their portfolio without the guesswork, cost, and complexity of designing, integrating, and acquiring the key components to enable tracker motion. The company is debuting the new product at RE+ 2023 in Las Vegas in Booth 538.
"Competitive pressures in the rapidly growing utility-scale solar market require providers to deliver competitive costs and "bankable" performance. Add the financial incentives for using trackers in the Inflation Reduction Act, and you have an enormous opportunity for Ground-Fixed-Tilt suppliers," said John Payne, CEO, Kinematics, "Kinematics ONE gives established suppliers a competitive edge and enables smaller tracker suppliers to serve this growing market effectively."
The new solution is ideal for C&I and utility-scale Ground-Fixed-Tilt structure providers seeking to add tracking capability to their product portfolio and existing tracker companies needing a cost-effective, modern, integrated, and supported solution. In addition, it provides the ideal solution to asset owners who need to re-power or upgrade the controls system within existing solar plant(s) for improved reliability and production performance.
Kinematics ONE
Kinematics ONE is a complete actuation sub-system combining Kinematics drives, motors, and intelligent controls in an easily integrated and commissioned package. This pre-integrated solution enables solar structure providers to specify the required structural design and loads easily so Kinematics can supply a turnkey system. This eliminates the need for the customer to engineer and qualify their own actuation and controls design. Additionally, Kinematics minimizes design risk by using components designed and tested to work together. Kinematics ONE is the easiest way for solar structure providers to deliver complete bankable tracker offerings to the market while eliminating the need to be actuation and controls experts.
"Kinematics ONE provides an essential capability to help us meet the demanding and evolving utility scale tracker system needs of the leading EPC firms on the largest solar projects in the country," said Mike Fraenkel, CEO of SOL Components. "This fully integrated system will speed our development and certification process and ensure we deliver the best-in-industry tracker solutions."
Kinematics ONE is the first solution to use the Wi-SUN FAN (Field Area Network) standard, proven in more than 100 million node installs in utility and critical infrastructure applications. Its utility-grade self-forming and self-healing network architecture simplifies commissioning and minimizes operation and maintenance costs. Kinematics ONE was designed to enable OEMs to meet the rigorous UL3703 standards and includes documentation needed for end-customers to certify their trackers easily.
Kinematics ONE integration planning will start immediately, with volume production beginning in the second half of 2024. For more information, visit the website, www.gokinematics.com/kinematics-one.
About Kinematics
Kinematics creates motion control solutions for mission-critical systems in demanding environments. Based in the US, the company operates globally delivering solutions that meet diverse customer needs at any volume cost-effectively.
Kinematics has developed novel solutions for nearly three decades and worked closely with customers to provide the most reliable, bankable, innovative drives across multiple industries. Today, with over two million drives deployed globally, representing hundreds of millions of hours of operation, the company is proud to sustainably support critical applications across the industrial, satellite, and solar sectors.
Kinematics was founded in 1996 and employs 400 professionals globally. Headquartered in Phoenix, Arizona, the company has sales offices throughout North America and Europe and manufacturing facilities in Jiangyin, China, and Nogales, Mexico.
Media Contact
Courtney Peril
Marketing Communications
courtney.peril@gokinematics.com
(623) 780-8944
Stay Connected
Stay connected with Kinematics – press releases, white papers, key industry information and more.