Solutions
Industrial Mobile
The Challenge
Safely and Reliably Move Loads
When positioning heavy loads in vehicle applications, safe and reliable torque performance is an absolute necessity.
The solution
Kinematics' solutions provide smooth, steady rotation to ensure the highest safety and efficiency standards.
Fast, Responsive Customization
---
We have industry-leading application understanding and skilled engineering support enabling us to design and build solutions that meet your specific application.
Full Solution Integration
---
We offer full integration of mounting plates, motors, accessories, and encoders. Our warehousing and stocking locations in the U.S. result in a risk-free supply chain.
Performance and Value
---
We deliver cost competitive manufacturing with U.S.-based engineering, sales, and customer support. Since 1996, we have been delivering reliable, quality products.
Tech & Products
Radial and axial-force load holding
---
Aerial work platform vehicles, service trucks, lifting cranes, paving machines, drilling machines, and mining equipment are just a few of the applications powered by Kinematics actuators.
Kinematics KE™ and SE™ Series
The KE and SE series actuators are trusted in over 50,000 vehicles around the world. These drives are optimal for applications requiring high load-holding and rotational torque. Their design protects them from harsh environmental conditions.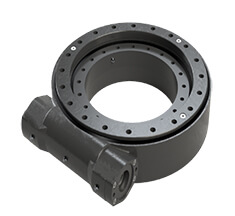 ---
Kinematics WP™ Series
WP series are double-reduction drives that combine the benefits of traditional worm drives with advantages of a second, spur gear reduction. Get higher efficiency and smoother operation than with single reduction drives.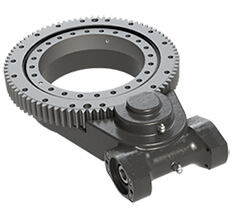 ---
Kinematics WE™ Series
Unlike traditional worm gearboxes with a maximum speed of 1-2 RPM, the WE series can rotate up to 5 rotations per
minute while maintaining high backwards holding torque
and moment loads.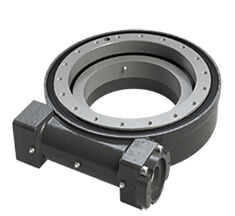 ---
Kinematics LP™ Series
LP actuators are lower profile and have over 10% less material than our standard SE or KE series. Lower overall weight helps to reach your gross vehicle weight (GVW) goals, increasing payload and boom reach.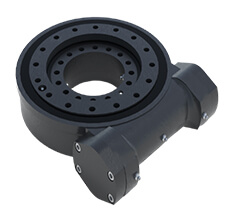 ---
Rings and Gears
Numerous applications depend on lightweight, large diameter bearings to support loads and movement. Kinematics' series of bearings provides you with the ability to support radial, axial, and moment loads from a single platform.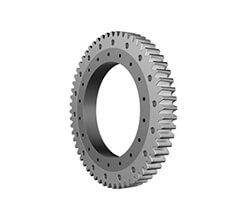 ---

Custom Engineering
Kinematics engineers thrive on solving your problem with a specialized solution. Remove the risk and guesswork by allowing us to provide an integrated solution of actuators, customer mounting solutions, motors, counterbalance valves, and position sensing technology.
Kinematics has been a supplier/partner of Venco Venturo Industries LLC for more than 15 years. Key attributes of Kinematics are their high-quality products, consistent on-time deliveries, excellent engineering support for custom-engineered solutions, and friendly, competent engineering & sales team. Kinematics understands the OEM/Supplier relationship, and it's a pleasure doing business with them!

Joe Dirr // Engineering Manager